Everything To Know About Spherical Roller Bearings
Spherical roller bearings have a higher load-bearing capacity and efficiency to handle heavy-duty applications. This blog from ZNL Bearings discusses a number of topics to aid in your understanding of spherical roller bearings.
Get Tailored & Customized Spherical Roller Bearings At Competitive Prices! Click Here
You might already be aware of what are bearings?, If not checkout here – What are bearings?
A rolling element bearing with spherical rollers that functions on the concept of rolling contact without sliding or fretting is referred to as a "spherical roller bearing." Numerous applications where radial loading is necessary can use the bearing. Depending on whether there are one or two rows of rollers between the inner and outer rings, it can be categorised as either a single row or a double row. These bearings have found extensive use across a number of sectors, including the mining industry, Paper industry, steel rolling mill, construction equipment, off-road machineries, maritime, industrial transmission, and agricultural industries.
Bearings with Spherical Rollers Designed for Heavy Loads

A spherical bearing is a type of bearing that allows angular rotation to occur about a central point in two directions that are perpendicular to one another (usually within a specified angular limit based on the bearing geometry). In most cases, these bearings are responsible for providing support to a rotating shaft within the [bore] of the inner ring. This shaft must not only rotate, but also move at an angle.
Both a hydrostatic and a mechanical structure are possible for spherical bearings. Spherical bearings, by themselves, are made up of an outer ring, an inner ring, and a locking device that only allows the inner ring to be held captive within the outer ring in the axial direction. They slide against each other, either with a lubricant, a maintenance-free, or they incorporate a rolling element such as a race of bearings, which allows for lower friction. The outer surface of the inner ring and the inner surface of the outer ring are both spherical, and both are considered to be part of the raceway. Spherical bearings find usage in a wide variety of applications, particularly those in which it is necessary to permit a rotational motion to cause a change in the alignment of the rotation axis.
Tolerances Are Built Into Spherical Roller Bearings
The main function of bearings is to reduce friction between the loads, but under certain circumstances, the bearing may need to tolerate misalignment because of the design and requirements of a machine's operation. It may involve rotating on a bent shaft where the shaft may flex as a result of an increased potential load or activity. In these situations, the spherical roller bearing serves as a lifesaver to overcome the many difficulties posed by manufacturing tolerances. The ZNL spherical roller bearing can function pretty well when the ball bearings could not function as well due to its distinct design and efficiency.
What Kinds Of Spherical Roller Bearings Are There?
There are two different types of spherical roller bearings.

The Spherical Roller Thrust bearings:
They have an asymmetrical barrel-shaped roller, which allows them to adjust well to a higher load and speed. This bearing's primary function is to ensure continuous alignment and a higher thrust capacity. These bearings also produce a smaller fraction in terms of production and design.
Spherical Roller Bearings:
These bearings may respond well to significant radial loads. Since they are barrel-shaped in terms of design, they can withstand any angular errors and misalignments that may occur in the case of heavy-duty machinery because of higher load. Regarding the actual application, they can withstand the circumstances of shaft and housing misalignment, enabling parallelism without the risk of mistakes and breakdown.
Spherical roller bearings come in a wide range of varieties from ZNL, including CC, E, CA, MB, and E-2RS Design.
ZNL provides spherical bearings of the 2RS type, which also refers to grease-filled and sealed bearings.
ZNL also provides several cage materials, including steel, brass, and polyamide.
Spherical Rollers Bearings In The Pulp And Paper Industries.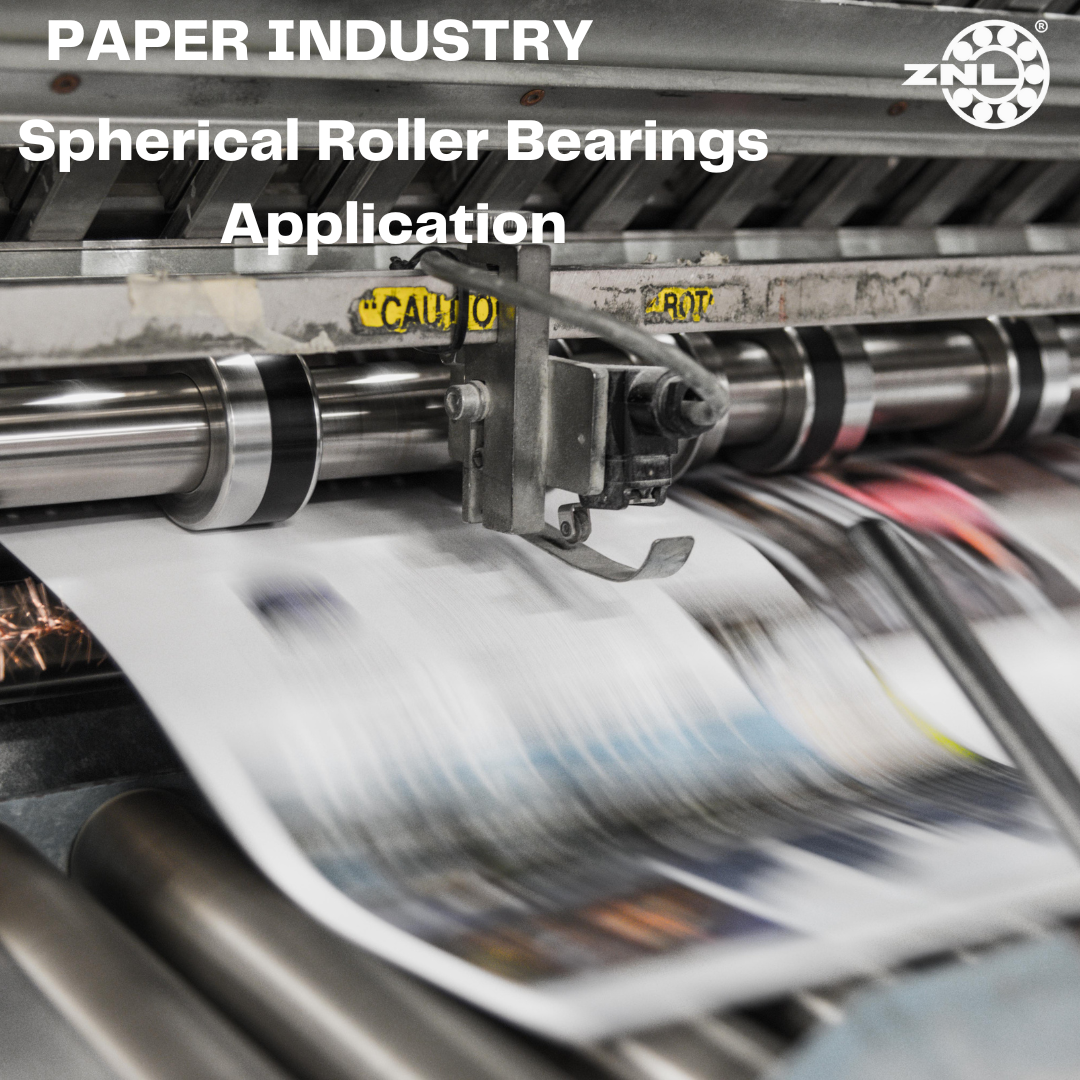 Standard spherical roller bearings are used in a significant amount of papermaking equipment (Paper Industry & Bearings) because of their capacity to support the locating side of various rolls and cylinders of paper machines with significant radial and axial stresses.The bearings, which are made to allow shaft and housing misalignment, are perfect for machines with bearings located in different housings that are far apart. They can frequently be applied to the non-locating side of paper mills.
Since its production we have worked to refine its design and provide knowledgeable advice on bearing selection, mounting, and lubrication.
The most recent spherical roller bearing generation by ZNL offers an exceptional balance of hardness and toughness for a longer service life thanks to high-quality steel and an upgraded heat treatment procedure.
Specific variations can be employed for several peculiar or difficult operation conditions:
Bearings for heated cylinders without journal insulation and steam temperatures greater than 170 °C have case-hardened inner rings.
Sealed bearings for polluted environments, such as those used in twin wire presses, wood yard conveyors, and horizontal vibrating screens.
For applications requiring extremely high running precision, such as deflection-compensating rolls, special bearings are available.
What Characteristics and Benefits Characterize Spherical Roller Bearings?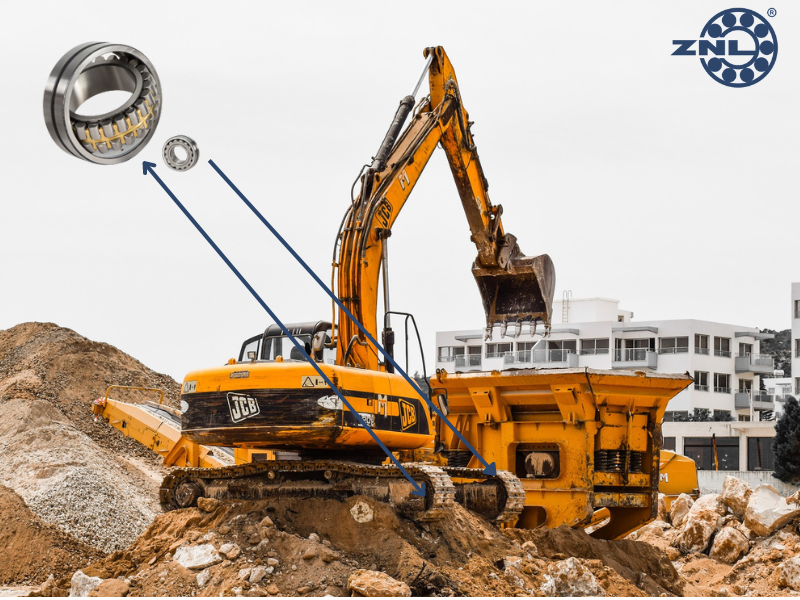 When compared to its rivals, such as Ball Bearings, whose applications and operational efficiency are constrained, ZNL Spherical Bearings do offer larger advantages. Spherical roller bearings are frequently employed in high-performance and heavy-duty applications because of their exceptional build quality, resistance, and design. Below given are few key points to ponder:
Spherical roller bearings have a self-aligning feature that allows them to do so while they are in use. It is possible to centre the inner race exactly on the outside race by adjusting it. No specialised equipment is needed for this technique, and the bearing is made to keep its state.
Low Bearing Diameter: Compared to other types of ball bearings, spherical rollers require a lower bearing diameter. For instance, you only need 40 mm between your inner and outer races when using an 80 mm bearing.
High Load Capacity: Compared to other bearings, spherical roller bearings are made to withstand higher load capacities. Additionally, they operate better under challenging environments like vibration or temperature changes.
Continuous Alignment: Throughout the duration of the bearing's life, spherical roller bearings keep their alignment. Spherical roller bearings can continue to function without any maintenance, in contrast to tapered roller bearings that need to be adjusted after each usage.
Extremely Smooth Operation: Because of their distinctive design, spherical roller bearings offer exceptionally smooth operation. They are made to operate smoothly in any type of machine or equipment by delivering the maximum amount of efficiency.
Simple Maintenance: In comparison to other bearing types, spherical roller bearings require very little maintenance.
Application In Heavy Duty Operations: Spherical roller bearings are frequently utilized in situations where heavy-duty operation is required because they are ideal for heavy-duty applications. These include tools for moving soil, tools for mining, tools for industry, tools for construction, ships, windmills, and so forth.
Understanding Spherical Roller Bearing Applications
When the load you need to handle surpasses the load rating of other types of bearings, such as ball bearings, you can utilise spherical roller bearings. Two rows of rolling elements in the outer ring are spaced apart by a radial gap. Both ends of these rolling components make contact with the inner racing surface. The rolling elements can move freely within the radial gap because there isn't a separate cage or retainer. They will always be aligned on their axis of rotation when the spherical roller rotates, therefore no further alignment technique is needed.
Industries that Use Roller Bearings
Every bearing is under pressure to operate at faster speeds and with heavier loads than ever before because of the competitive, cost-cutting character of the global business environment. This is especially clear in the demanding surroundings and work schedules of mining and quarrying. Our bearings use highly durable machined brass cages to provide the internal damping and robustness that these applications demand. Users can have faith in the ZNL product and service thanks to good availability and a stellar field reputation. To satisfy particular needs, large spherical roller bearings for crushers and mills can be offered in alternate materials. Here, the expertise of specialised ZNL engineers can offer suitable technologies that lead to affordable solutions.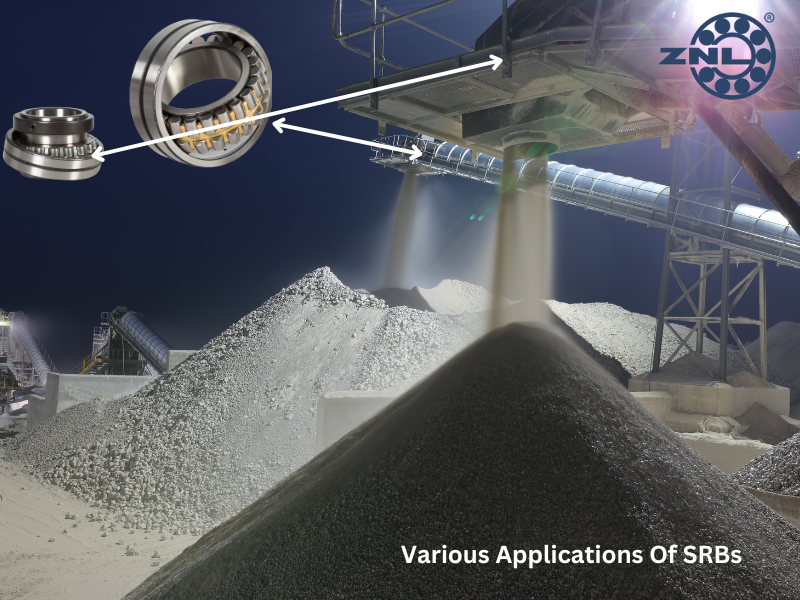 For some of the most challenging applications encountered in paper mills, ZNL offers market-leading technology. ZNL spherical roller bearings with lubricant are used at the wet end of paper machines to improve reliability without the need for constant grease purging of the bearings to remove the water. The physical barrier offers a very affordable, dependable bearing solution when combined with the long lubricant life. Typically, condition monitoring allows for tracking the development of fatigue spalling and planning a machine stoppage. Ring fractures, on the other hand, provide a sudden and unforeseen problem that results in severe output loss and unanticipated downtime. ZNL bearings offer outstanding dependability and safety from unforeseen costs by essentially eliminating this issue.
Conclusion
Industries that need heavy-duty tolerance and load in terms of bearings can benefit greatly from the ZNL spherical roller bearing. (The Advantages Of Partnering With A One Stop Solution – Bearings Manufacturer) It not only satisfies the demand for contemporary automated gear, but also improves operations to handle huge weights.